Important matching types questions with examples from ecology
Matching types questions with examples
◆ introduction :- in this topic we know about important matching type questions with examples from Ecology which will be more gues to ask in annual examination of JAC Board from 12th Biology.students might be busy in your preparation for coming 12th board Jharkhand academic Council exams.biologysir.com will provide many type of education material like fill in the blanks, true or false , matching type questions ,multiple choice questions, very short questions answers type, short questions answer type and long questions type of 12th class Biology from each topic that help you in your preparation.
Important matching type questions with examples from ecology
◆you should also visits our website https://biologysir.com and other website for civil engineer calculation at civilsir.com
■ follow on YouTube
*In this post :- we provide you matching types questions with answer from ecology
(Q1)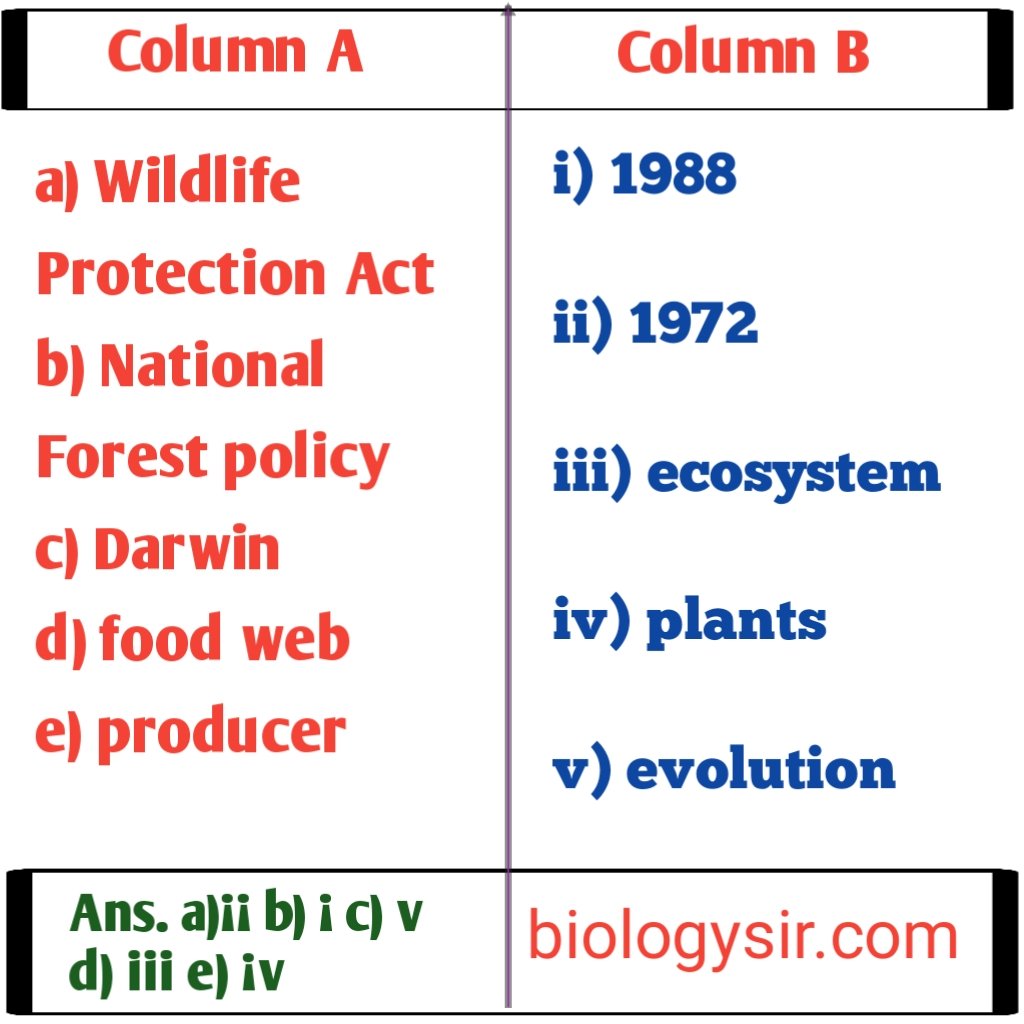 (Q2)
(Q3)
(Q4)
(Q5)
(Q6)
(Q7)
(Q8)
(Q9)
(Q10)
◆ Biological magnification :- Biological magnification is also called as biological concentration characterized by the increase in the substance in successive trophic levels of food chain like pesticides
◆ minmata disease :- minamata disease in Japan in 1952 appear due to conjunction of Mercury contaminated pieces of minamata bay. It is characterized by blurring of vision and mental disorder and genetic change
◆ COD :- chemical oxygen demand is the amount of oxygen required to oxidise all the pollutants both biodegradable and nonbiodegradable in one litre of wastage water at 20 degree celsius in 5 days.
2) biology  class 11th and 12th all full form
◆ BOD :- biochemical oxygen demand is the amount of oxygen required by the microorganisms in milligrams in 5 days to completely decompose the organic matter present in one litre of polluted water at 20 degrees celsius.
◆ biodegradable pollutant :- pollutants capable of being removed or degraded by biological or microbial action for example domestic sewage livestocks wastage Municipal sewage
◆ non biodegradable pollutant :- the substance which are normally not acted upon by microbes or acted upon very slowly these undergoes Biological magnification for example radioactive substance, Mercury salt, phenolic compound ,pesticides, Polythene bags, heavy metal and DDT